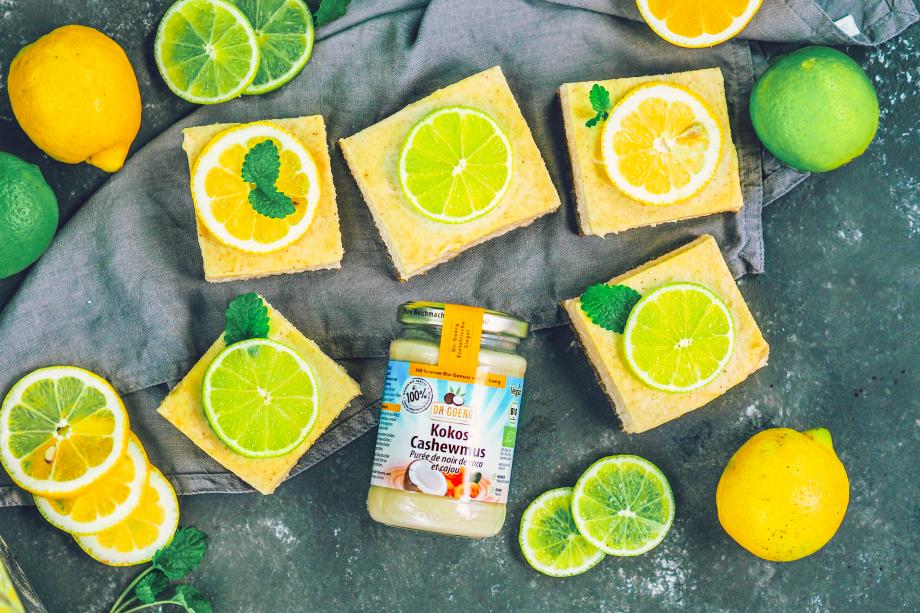 And all that I can see is just a yellow Lemon-Cheesecake!
"I wonder how, I wonder why
Yesterday you told me 'bout the
Blue, blue sky
And all that I can see
Is just a yellow lemon tree"
Na, wer hatte den Song gerade auch direkt wieder im Ohr? Wir hoffen, wir haben euch damit nicht nur einen Ohrwurm, sondern auch noch super gute Laune für den Tag verpasst!
Sauer macht lustig!
Bei unserem heutigen Rezept dreht sich nämlich alles rund um die gelb-säuerliche Superfrucht Zitrone, die für unseren Raw-Lemon-Cheesecake verwendet wurde und uns ganz nebenbei auch noch mit einer Menge Vitamin C und Kalium für Herz und Muskeln versorgt. Der zart cremige Genuss unseres 100 % naturbelassenen Premium Bio-Kokos-Cashewmus aus reinem Bio-Kokosmus  & feinstem Bio-Cashewmus  verfeinert die Zitronencreme zu einer absoluten Perfektion!
Für den Boden benötigt ihr unsere 100 % handverlesenen weißen, süßen Premium Bio-Mandeln, die für das unvergleichliche Aroma mit intensiver und vollmundiger Mandelnote sorgt.
Die zarte Cremigkeit der Zitronen-Masse wird mit unserer 100 % reinen Premium Bio-Kokosmilch aus 100 % Kokos abgerundet. Sie besteht zu 100 % aus erntefrischen Kokosnüssen & kommt KOMPLETT OHNE Wasserzusatz, Konzentrat oder weitere versteckte Zusätze aus!
© by Sarina Grabher / Instagram: @plantisarina