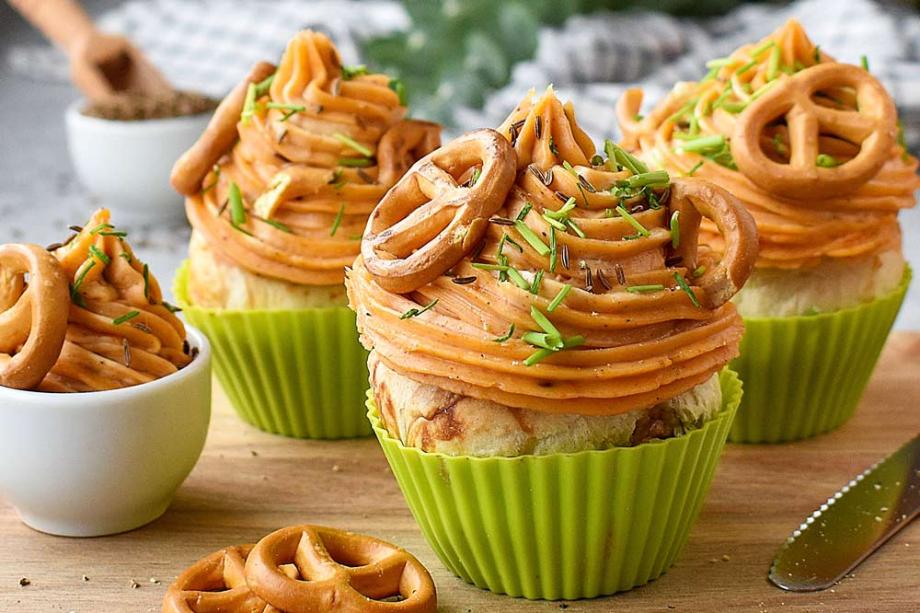 Wo sind die Brezn-Fans?
Wenn wir immer die hübschen Cupcakes sehen, die wir schon gebacken haben, dann kommt direkt die Lust auf das süße Vergnügen zurück. Doch nicht immer haben wir Zeit und Lust, so viel Zeit in der Küche zu verbringen. Eine Lösung musste her und die lautet: Laugen-Cupcakes! Die backen sich sogar fast schon von allein und sind in der Zubereitung einfacher, als Muffins mit einer Fertigbackmischung zu backen. Wenn Sie noch nach einer schnellen Nachmittags-Jause suchen oder nach einem hübschen Eyecatcher auf einem Party-Buffet, dann nichts wie ran an den Kochlöffel und los geht's:
Brenz-Glück to go
Eigentlich haben wir es uns diesmal wirklich ziemlich einfach gebacken, denn unser Muffin-Teig besteht einzig und allein aus Laugengebäck. Das sieht nur keiner, weil wir es unter der Weißbier-Cupcake-Haube geschickt verschwinden lassen. Damit es aber nicht zu langweilig wird, haben wir uns für eine Füllung aus unserem cremig-süßen Bio-Mandelmus, Hefeflocken und ein paar Gewürzen entschieden. Die wird einfach in die Mitte des "Muffins" gegeben und dann alles im Ofen goldbraun gebacken.
Eine zünftige Frischkäse-Haube
Natürlich wäre ein Cupcake kein Cupcake, wenn er nicht die richtige Haube trägt. Und auch hier haben wir uns nicht lumpen lassen und eine ganz neue Art von Frischkäse-Frosting aus dem Hut gezaubert. Hier kommt ebenfalls wieder unser Bio-Mandelmus zum Einsatz, welches zusammen mit Frischkäse, einer Schalotte und etwas Weißbier zu einer herzhaft-süßen Creme vermischt wird. Ja, genau diese Geschmäcker sind es, die unsere herzhaften Laugen-Cupcakes erst so besonders machen.
Das Frosting ist schön fest, aber trotzdem cremig, weswegen auch der Transport kein Problem ist. Ein kleiner Snack to go oder in der Mittagspause ist also schon jetzt gesichert! Probieren Sie unsere etwas andere Muffin-Kreation unbedingt aus! Es wird sich mehr als lohnen.
© Foto & Rezept by Rebecca Traub / Instagram: @veggiebeccy