Premium Bio-Kokosspeisefett 500 ml Sparpaket 5+1
100 % reines Bio-Kokosspeisefett
100 % fair, ehrlich, nachhaltig
aus kontrolliert biologischem Anbau
aus erntefrischen Bio-Kokosnüssen
Dr. Goerg-Erntefrische-Garantie: nur 72 Stunden von der Ernte zum Produkt
100 % vegan
von Natur aus gluten- und laktosefrei
wasserdampfdesodoriert
geruchs- und geschmacksneutral
hoch erhitzbar (Rauchpunkt bei über 232 °C)
ohne Zusatzstoffe
Special Price
€53.23
Regular Price
€62.61
Content: 0
incl. tax plus shipping
Special Offers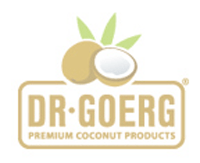 Dieses Sparpaket umfasst:
6 x 500 ml Gläser Premium Bio-Kokosspeisefett
Unser Premium Bio-Kokosspeisefett ist der gruchs- und geschmacksneutrale Allrounder in der Küche. Dank seines Rauchpunktes von über 232 °C kann es bedenkenlos ultrahoch erhitzt werden, deshalb eignet es sich hervorragend zum Kochen, Backen, Frittieren und Braten von süßen und herzhaften Speisen - insbesondere, wenn alle Geschmacksnoten ungetrübt erhalten bleiben sollen.
Im Gegensatz zu unserem kaltgepressten Bio-Kokosöl hat unser Bio-Kokosspeisefett keine Rohkostqualität, denn es wird schonend mit Wasserdampf desodoriert, wodurch die Geruchs- und Geschmacksstoffe entzogen werden.
Dr. Goerg seal of quality
Dr. Goerg Premium Bio-Kokosspeisefett - die Alternative zu gehärteten und teilgehärteten Brat- und Backfetten.
Unser Kokosspeisefett teilt viele Produkteigenschaften mit unserem Bio-Kokosöl - so wird es beispielsweise ebenso aus erntefrischen Bio-Kokosnüssen hergestellt, ist vegan und von Natur aus gluten- und laktosefrei. Ebenso wie unser Kokosöl hat es einen sehr hohen Rauchpunkt von über 232 °C und kann deshalb bedenkenlos hoch erhitzt werden und übrigens keine Sorge: Transfettsäuren können beim Erhitzen unseres Kokosöls oder Kokosspeisefetts nicht entstehen.
Worin besteht nun der Unterschied zum Kokosöl? Während des Herstellungsprozesses wird das Dr. Goerg Kokosspeisefett schonend mit Wasserdampf desodoriert. Dadurch verliert es seine Rohkostqualität und wird geschmacks- und geruchsneutral. Ebendies macht den nächsten entscheidenden Unterschied aus: Dr. Goerg Bio-Kokosöl riecht und schmeckt ganz fein nach erntefrischer Kokosnuss während das Dr. Goerg Bio-Kokosspeisefett keine eigene Geruchs- oder Geschmacksnote mitbringt. Wer also Kokos nicht mag, aber auf ein hochwertiges Speisefett wert legt, der ist mit unserem Kokosspeisefett bestens beraten und kann es vielseitig in der Küche einsetzen.
Dr. Goerg seal of quality
Perfekt zum Frittieren und Braten Das Dr. Goerg Premium Bio-Kokosspeisefett findet vielseitige Verwendung in der Küche, insbesondere beim Braten, Kochen, als Fritteusen-Fett oder als Zutat in Gebäck und Kuchen. Genau richtig, denn es ist dank seines Rauchpunkts von mehr als 232 °C bedenkenlos sehr hoch erhitzbar. Frittieren Sie Pommes, Krapfen, in Kokosraspel ummantelte Bananen oder Tempura. Backen Sie Waffeln aus oder braten Sie Fleisch, Fisch oder Tofu mit Kokosspeisefett scharf an - und das ganz ohne unangenehmen Geruch oder Kokosgeschmack, denn unser Bio-Kokosspeisefett ist absolut geruchs- und geschmacksneutral! Auch für Kokos-Kritiker, die wert auf ein hochwertiges Brat-/Backfett legen, ist es deshalb optimal geeignet.
Dr. Goerg seal of quality
Zutatem:
100 % reines Kokosspeisefett aus kontrolliert biologischem Anbau
100 g enthalten durchschnittlich:
Energie
3685 kJ / 896 kcal
Fett
99,4 g
- davon gesättigte Fettsäuren
91,6 g
- einfach ungesättigte Fettsäuren
6,2 g
- mehrfach ungesättigte Fettsäuren
1,6 g
Kohlenhydrate
< 0,5 g
- davon Zucker
< 0,5 g
Ballaststoffe
< 0,1 g
Eiweiß
< 0,1 g
Salz
< 0,01 g
Dr. Goerg seal of quality
Das Bio-Kokosspeisefett von Dr. Goerg ist bis zu zwei Jahre haltbar. Lagern Sie es bitte verschlossen bei Raumtemperatur und vermeiden Sie direkte Sonneneinstrahlung. Unter 24 °C verfestigt sich das Fett. Die Qualität wird dadurch nicht beeinträchtigt.
Dr. Goerg seal of quality
Dr. Goerg seal of quality