Premium Organic Almond Butter 1000 g
Made from whole, white, sweet organic almonds
made from whole, white, sweet organic almonds
a true raw food
natural
vegan
without additives
without added sugar – contains naturally occurring sugars
naturally gluten and lactose-free
source of protein
rich in fibre
Special Price
€29.99
Regular Price
€32.99
Content: 1 kg
incl. tax plus shipping
Delivery:
Usually 1-3 days, freeShipping(within Germany)
9%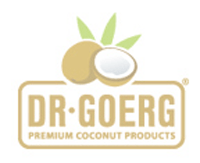 A delicious, creamy product made from whole, white, sweet organic almonds
- the Dr. Goerg Premium Organic Almond Butter in a 1000 g jar.
We only use whole, white, sweet almonds in our Premium Organic Almond Butter – because they give the creamy spread a particularly intense and aromatic almond flavour. Our natural butter does not need any other ingredients and above all, additives such as emulsifiers and stabilisers are not added and our product contains no palm oil – instead you get a harvest-fresh quality product in true raw coconut quality.
This vegan spread is naturally gluten and lactose-free, making it ideal for people with food intolerances. This high-fibre organic almond butter is a 100% natural source of protein for fitness fanatics and tastes delicious.
Dr. Goerg seal of quality
Freshly harvested whole, white, sweet organic almonds are used to make our creamy, aromatic butter. Our high-quality organic almond butter is 100% natural and, thanks to the careful production process, has true raw food quality.
As with all our premium organic products, we use only the best sustainably farmed ingredients for our almond butter. As the almonds are carefully processed, the focus is on naturalness – so we do not use any additives, palm oil, emulsifiers or stabilisers.
Dr. Goerg seal of quality
Ideal as a creamy spread or an ingredient in pastries, desserts or ice cream, delicious in smoothies or cereals, as well as in savoury sauces and dishes. Or simply enjoy it on its own.
Dr. Goerg seal of quality
Ingredients:
Organic
Almond Butter
(100 %)
On average, 100 g contain:
Energy
2623 kJ / 634 kcal
Fat
55,0 g
- of which saturates
4,5 g
Carbohydrates
6,2 g
- of which sugars
4,2 g
Fibers
8,0 g
Protein
25,0 g
Salt
0,01 g
Dr. Goerg seal of quality
The Organic Almond Butter from Dr. Goerg can be kept for up to 14 months.
Store the product sealed, at room temperature and keep out of direct sunlight.
Almond oil from the nuts may settle on the surface. Stir before use.
Dr. Goerg seal of quality
Dr. Goerg seal of quality