Premium Coconut Oil, 3000 ml
harvest-fresh, natural and delicious raw food quality
100% pure Premium Organic Coconut Oil
100% natural raw food quality
100% vegan
100% fair, honest, sustainable
made from 100% harvest-fresh organic coconuts
Dr. Goerg harvest-freshness guarantee: only 72 hours from harvest to product
extra virgin (pressing temperature under 38°C)
no additives
up to 51.43% lauric acid
naturally gluten & lactose-free
not refined, not deodorized, not hardened, not bleached
Special Price
€54.99
Regular Price
€68.99
Content: 3 l
incl. tax plus shipping
20%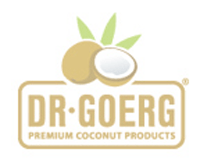 Our 3000 ml jumbo pack is for connoisseurs who still like to strike a bargain. This coconutty treat will last any enthusiastic coconut family and friends a long time.
Dr. Goerg seal of quality
In harmony with nature and with respect for food
Sun-ripened coconuts constitute the basis for our high-quality, all-natural Premium Raw Organic Virgin Coconut Oil. Our coconuts are freshly harvested daily by small-scale Philippine farmers and quickly brought to our production facilities. In addition to the top-quality of our raw materials, the gentle and immediate processing within a maximum of 72 hours after harvest contributes to the immense biological value of our organic virgin coconut oil with its pure and fresh taste of coconut. The coconuts are processed at 38 °C in first cold-press. The result is raw virgin coconut oil brimming with vital nutrients (vitamins, minerals, trace elements), with high levels of lauric acid. Scientific research has proven the positive impact these natural substances have on the body and the overall physical condition. In addition, coconut oil may support the absorption liposoluble vitamins and some minerals. You can taste and feel the positive impact of our coconut oil.
100 % pure raw virgin coconut oil
in raw food quality
from monitored organic cultivation
made from harvest-fresh coconut flesh
from the 1st cold press at 38 °C
Dr. Goerg harvest-freshness guarantee: only 72 hours from harvest to product
no additives
impressively high levels of lauric acid
naturally gluten- and lactose-free
100 % vegetable food
not refined
not deodorised
not hardened
not bleached
Dr. Goerg seal of quality
Organic coconut oil impressively versatile and potent Our high-quality Premium Raw Organic Virgin Coconut Oil made from harvest-fresh, sun-ripened coconuts has an outstanding flavor as well as high levels of nutrients. However, it is also amazingly versatile in use. Due to its high biological value, it sustainably supports the overall well-being and good looks. You can use it to refine your dishes, to apply it on skin and hair and even for losing weight and conducting oil treatments. Or simply treat yourself to pleasant and relaxing massage with coconut oil to take a rest from your stressful day. If you use our coconut oil, youre doing yourself, your soul and the environment a favour. Our Raw Organic Virgin Coconut Oil is versatile in use: In the kitchen Our all-natural coconut oil in raw food quality is indispensable for cooking, baking and frying. It is rich in vital minerals and vitamins and offers a high lauric acid content of up to almost 51,43 %. Use it to refine soups, ice-cream, main courses and drinks and try it as an alternative sandwich spread or daily dietary supplement. It is also suitable for oil treatments, Ayurvedic oil pulling or as a boost to your diet. Beauty care You can seriously spoil your whole body with our harvest-fresh Premium Raw Organic Virgin Coconut Oil. It helps to regenerate your hair and provides it with a silky smooth appearance. As a facial treatment it will relax and rejuvenate your skin. Athletes use it to on their whole body to provide it with medium-chain saturated fatty acids. Used as a bath soak, body or massage oil it will give you a sensual treat.
Dr. Goerg seal of quality
Ingredients:
100 % Organic Coconut Oil
On average, 100 g contain:
Energy
3693 kJ / 898 kcal
Fat
99,6 g
- of which saturates
93,9 g
Carbohydrates
< 0,5 g
- of which sugars
< 0,5 g
Protein
< 0,5 g
Salt
< 0,01 g
Dr. Goerg seal of quality
Dr. Goerg Premium Raw Organic Virgin Coconut Oil has a shelf life of up to two years. Please store the organic coconut oil closed at room temperature and avoid direct sunlight. Below 24 °C the oil solidifies without reducing the quality.
Dr. Goerg seal of quality
Dr. Goerg seal of quality