Coconut indulgence for beginners and professionals
Organic Coconut Product
ideal for enjoying plain, cooking, frying, baking and decorating
made from fresh coconut flesh
in raw food quality (except for Organic Coconut Chips)
no additives
naturally gluten and lactose-free
vegan (100% vegetable food)
Special Price
€23.49
Regular Price
€25.97
Content: 0
incl. tax plus shipping
available again shortly
Spar- paket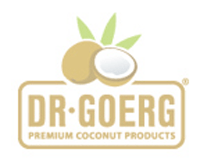 Cooking, sautéing, baking and clever snacking made possible with our 3-piece-coconut-pack at an unbeatable price. With our best sellers youll receive three exotic highlights for your kitchen. Have you tried our Premium Raw Organic Virgin Coconut Oil as hair and body treatment? If you value velvety skin and shining hair you should definitely give it a try! Coconut Oil and Coconut Flour can easily be used for Asian or European dishes. The caramelised Coconut Chips transform any night in front of the TV into a flavorful trip for the senses. The pack contains the following items: 500 ml Organic Virgin Coconut Oil, 1000 g Organic Coconut Flour, 125 g Sweet Toasted Organic Coconut Chips.
Dr. Goerg seal of quality
Harvest-freshness at its best
Dr. Goerg organic coconut products are gently processed within 72 hours of harvest at 38 °C (valid for most products). This way a maximum of nutrients is retained. The following Products cannot be produced in raw food quality due to their process of manufacture: Premium Organic Coconut Milk, Premium Organic Coconut Blossom Sugar, Premium Organic Coconut Chips
from monitored organic cultivation
made from harvest-fresh coconut flesh or coconut blossom nectar
Dr. Goerg harvest-fresh guarantee: only 72 h from harvest to product
no additives
naturally gluten and lactose-free
100 % vegetable food
not refined
not deodorised
not hardened
not bleached
Dr. Goerg seal of quality
Fulfilling high expectations in every kitchenOrganic coconut products are perfectly suited for a modern and conscious cuisine. Especially for vegetarian, vegan and gluten and lactose-free dishes, Dr. Goerg offers many completely natural and delicious alternatives. Even meat enthusiasts will discover a new aroma by adding coconut to their dishes.
Dr. Goerg seal of quality
Dr. Goerg Organic Coconut Products have a shelf life of up to two years. Please store them closed at room temperature and avoid direct sunlight.
Dr. Goerg seal of quality
Dr. Goerg seal of quality