Desiccated Coconut 'Macaroon', 3800 g
Harvest-fresh, natural and delicious raw food quality
ideal for cooking, baking or as a raw ingredient
100% pure organic coconut flakes
100% natural raw food quality
made from 100% harvest-fresh organic coconuts
Dr. Goerg harvest-freshness guarantee: only 72 hours from harvest to product
100% fair, honest, sustainable
100% naturally gluten & lactose-free
100% vegan
no additives
Special Price
€34.99
Regular Price
€49.00
Content: 3 kg
incl. tax plus shipping
available again shortly
29%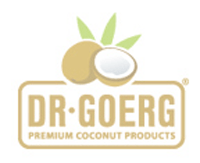 Transform coconut macaroons & Co. into premium pastry. With our all-natural, high-quality Organic Desiccated Coconut you can refine both sweet and savory dishes. Your imagination is limitless. Sprinkle this unbleached goodness on traditional wok dishes or muesli. Or try something new and less obvious and combine it with meat or fish. Some Desiccated Coconut added to your dish or drink, some sprinkled on top: Et voilà, you have spiced up flavor and appearance of your dish at the same time. Be it cake, cookies, ice cream, desserts, savory Asian dishes or dressings with our Premium Organic Desiccated Coconut youre always on the tasty side.
Dr. Goerg seal of quality
Organic coconut flakes - indulging the natural way
Our Premium Raw Organic Coconut Flakes are optained from fresh flesh of organic coconuts which are processed within 72 hours of harvesting. The coconut flesh is gently dried and then grated. No additives or synthetic agents are used - there's nothing but pure nature in our products. The harvest-fresh organic coconut flakes are of a creamy color. That is a characteristic of their premium quality since the coconut flakes are not bleached but completely in their natural state.
100 % pure organic coconut flakes
raw food quality
from monitored organic cultivation
Dr. Goerg harvest-freshness guarantee: only 72 hours from harvest to product
no additives
100 % vegetable food
von Natur aus frei von Gluten und Laktose naturally free from gluten and lactose
high-fiber and low-carb
unbleached
Dr. Goerg seal of quality
Versatile, decorative and delicious Add that something extra to your dishes! Sprinkling your pastries and cakes with coconut flakes will not only make them easy on the eye, but also transform them into a delicious feast for the pallate. Their use is by no means restricted to baking endeavours: even Asian dishes, wok and pan dishes, curries, soups, sauces, salads and desserts can be refined with our organic coconut flakes.
Dr. Goerg seal of quality
Ingredients:
100 % Organic Desiccated Coconut
On average, 100 g contain:
Energy
2795 kJ / 679 kcal
Fat
65,9 g
- of which saturates
62,0 g
Carbohydrates
7,1 g
- of which sugars
7,0 g
Fibers
14,6 g
Protein
7,0 g
Salt
0,04 g
Dr. Goerg seal of quality
Dr. Goerg Organic Coconut Flakes have a shelf life of up to two years. Store the coconut flakes dry at room temperature and keep them out of direct sunlight.
Dr. Goerg seal of quality
Dr. Goerg seal of quality