Coconut Blossom Syrup 350 g
Harvest-fresh and in its natural state
for sweetening food and beverages
Dr. Goerg harvest-freshness guarantee: only 72 hours from harvest to product
consists of 100% harvest-fresh coconut blossom nectar
100% fair, honest, sustainable
100% vegan
100% naturally gluten & lactose-free
100% monitored organic cultivation in the Philippines (certified organic)
no additives
Special Price
€6.99
Regular Price
€8.99
Content: 0 kg
incl. tax plus shipping
Delivery:
Usually 1-3 days, excl. € 5,95 Shipping (within Germany)
22%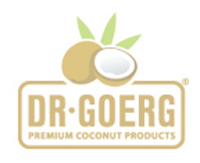 Natural sweetener and drink in one - our Premium Organic Coconut Blossom Sugar is a natural and sustainable sweetener! No wonder Coconut Blossom Sugar is an in-food not only among the weight conscious. Dr. Goerg Coconut Blossom Sugar is produced manually in a complex process with care and attention. That way it retains a maximum of beneficial natural substances and does justice to its reputation as a wellness sweetener. During summer you can mix it with water or sour juices to get a refreshing and replenishing drink. As the figurative icing on the cake, Coconut Blossom Sugar is an ideal ingredient for cocktails and other mixed drinks. Enjoy its mild flavor and sweeten your dishes and drinks with a hint of exotic luxury.
Dr. Goerg seal of quality
Syrup obtained from harvest-fresh nectar of coconut blossoms
The production of this fine delicacy is conducted in a unique way. Traditionally, the organically certifed small-scale farmers we work with in the philippines climb the palm trees and tap the nectar of the mature inflorescence. Later on, the nectar is processed into syrup by gently reducing it by hand - and with a passion. With its many vitamins and essential amino acids, the mildly aromatic coconut blossom syrup is one of the most nutrient-rich sweeteners there is. That's why you can use it as a substitute for agave syrup, honey and other natural sweeteners. Naturally, Dr. Goerg Premium Organic is free from any additives and completely in its natural state - as always with Dr. Goerg. There's no room for preservatives, flavoring and coloring agents and thickening agents in our jars - or rather bottles. Our Premium Organic Coconut Blossom syrup comes in a handy squeezable bottle which easily releases the delicious sweetener. Dispensing made easy as pie. Due to its manufacturing process, the coconut blossom syrup cannot be produced in raw food quality.
100 % pure Premium Organic Coconut Blossom Syrup
aus kfrom monitored organic cultivation
Dr. Goerg Harvest-freshness guarantee: only 72 hours from harvest to product
no additives
100 % vegetable food
Dr. Goerg seal of quality
Coconut blossom syrup - sweetening the natural wayPremium Organic Coconut Blossom Syrup can be used to sweeten various dishes and drinks like desserts, salad dressings, cocktails, sauces, teas or smoothies. By adding it to a glass of water you will get a refreshing drink which is quite popular in Asia. It is also ideally suited as a cocktail ingredient - giving your mixed drink a boost of natural sweetness. Coconut blossom syrup mixes well with other tropical drinks like rum or exotic juices.
Dr. Goerg seal of quality
Ingredients:
100 % Organic Coconut Blossom Syrup
On average, 100 g contain:
Energy
1228 kJ / 289 kcal
Fat
< 0,1 g
- of which saturates
< 0,1 g
Carbohydrates
71,1 g
- of which sugars
58,9 g
Fibers
14,6 g
Protein
1,0 g
Salt
0,12 g
Dr. Goerg seal of quality
Dr. Goerg Organic Coconut Blossom Syrup has a shelf life of up to two years. Store the coconut blossom syrup closed at room temperature.
Dr. Goerg seal of quality
Dr. Goerg seal of quality