5 x Premium Coconut Butter 500 g + 1 x Free
Harvest-fresh, natural and delicious raw food quality
100% pure organic coconut butter
100% natural raw food quality
100% vegan
100% fair, honest, sustainable
made from 100% harvest-fresh organic coconuts
Dr. Goerg harvest-freshness guarantee: only 72 hours from harvest to product
no additives
naturally gluten & lactose-free
not refined, not deodorized, not hardened, not bleached
Special Price
€74.95
Regular Price
€89.94
Content: 3 kg
incl. tax plus shipping
available again shortly
Spar- paket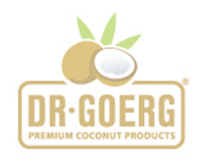 Harvest-fresh coconut flesh, only! Thats the sole ingredient of our Premium Raw Organic Virgin Coconut Butter which makes it a pure and unaltered indulgence. It makes for limitless pleasure without any additives. This raw food quality Coconut Butter can be enjoyed pure, warm and cold. Merely for sautéing purposes we recommend using our Premium Raw Organic Virgin Coconut Oil since it is more heat resistant. Why not try Coconut Butter as sandwich spread adding an exotic touch to your lunch break. Or garnish vanilla ice cream with Coconut Butter and fruit thats some second helping material! Premium Raw Organic Virgin Coconut Butter is perfect for desserts, wok and pan dishes, milkshakes, smoothies and drinks, sauces, curries and soups.
Dr. Goerg seal of quality
Organic Coconut Butter pure coconut flesh for the real taste of coconut
Made from luscious and harvest-fresh coconut flesh, our coconut butter in raw food quality is processed within a maximum of 72 hours of harvesting. It is unsurpassed in flavor and creaminess. It instantly melts on your tongue, offers a delicious taste, contains all vital substances of the coconut and is versatile in use. Since our coconut butter is raw, it has many fans among raw food enthusiasts, vegans and all those who put an emphasis on a conscious nutrition. Even people with food intolerances can indulge in Dr. Goerg Premium Raw Organic Coconut Butter. By now it is common knowledge that coconut is perfectly suited for a healthy and active lifestyle due to its high nutritional value. It goes without question that all Dr. Goerg products are 100 % all-natural. We dont give additives like thickening or bleaching agents and emulsifiers a chance. After all, we want you to enjoy the real and pure taste of coconut!
100 % pure organic coconut butter
raw food quality (38 °C processing temperature)
from monitored organic cultivation
made from harvest-fresh coconut flesh
Dr. Goerg harvest-freshness guarantee: only 72 h from harvest to product
no additives
100 % vegetable food
not refined
not deodorised
not hardened
not bleached
Dr. Goerg seal of quality
Harvest-fresh organic coconuts for your dish
The list of dishes you can enhance is long: On the savory side the butter mixes well with soups, sauces, dips, curries and Asian cuisine. And those with a sweet tooth will simply love this coconut butter: Sprinkle some butter over fruit salads consisting of mango, pineapple, passion fruit or papaya and let your taste buds be spoiled by this exotic treat. Coconut butter is without a doubt perfect for desserts, pastries, ice-cream or smoothies. It also serves well as an ingredient in exotic drinks or as a sandwich spread.
Things you should know about organic coconut butter:
Coconut butter becomes easy to spread at roughly 24 °C therefore it makes sense to gently heat it in a warm water bath or position it close to a radiator. Even small amounts of coconut butter provide a maximum of flavor! For frying we recommend using Dr. Goerg Premium Raw Organic Virgin Coconut Oil since coconut butter is not as heat resistant. Apart from this there are no restrictions to the usage of coconut butter simply add it to taste!
Dr. Goerg seal of quality
Ingredients:
100 % Organic Coconut Butter
On average, 100 g contain:
Energy
2787 kJ / 677 kcal
Fett
64,6 g
- of which saturates
60,8 g
Carbohydrates
7,7 g
- of which sugars
7,4 g
Fibers
17,3 g
Protein
7,6 g
Salt
< 0,1 g
Dr. Goerg seal of quality
Dr. Goerg Organic Coconut Butter has a shelf life of up to two years. Store the coconut butter closed at room temperature and avoid direct sunlight. Below 24 °C the butter solidifies. This does not affect the quality in a negative way. It can be liquefied in a warm water bath without a reduction in quality.
Dr. Goerg seal of quality
Dr. Goerg seal of quality