4 delicious organic coconut products
ideal for enjoying on its own, cooking, frying, baking and decorating
made from fresh fruit
free from additives
naturally free from gluten and lactose
100% vegetable (vegan)
Special Price
€20.49
Regular Price
€22.96
Content: 0
incl. tax plus shipping
Delivery:
Usually 1-3 days, excl. € 3,99 Shipping (within Germany)
Bestseller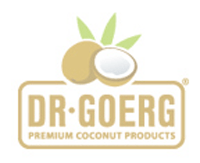 Frying, backing, sweetening and finishing with organic coconut
Your little favourites in pretty packaging with handle. Ideal for gifting to friends and family.
The bundle consists of the following products:
Organic Coconut Cooking Fat, 200ml
Organic Coconut Oil, 200 ml
Organic Coconut Butter, 200g
Organic Coconut Blossom Sugar, 120g
Dr. Goerg seal of quality
More Information

| | |
| --- | --- |
| Lieferzeit | 0 |
Fresh from the harvest, fresh for you
Dr. Goerg Organic Coconut products are carefully produced within just 72 hours of harvesting and largely at a temperature of 38°C, retaining the maximum nutritional content. The following products are not raw food quality due to the way they are made: Organic Coconut Milk, Organic Coconut Chips, Organic Coconut Blossom Sugar
certified organically grown
made from freshly harvested fruit pulp and/or coconut blossom nectar
Dr. Goerg harvest-fresh guarantee: just 72 hours from harvest to product
100% raw
no additives
very high lauric acid content of up to 59.42%
naturally free from gluten and lactose
100% vegetable (vegan)
not refined
not deodorised
not hardened
not bleached
Dr. Goerg seal of quality
For the highest standards in every diet
Organic coconut products are perfect for modern and nutrition-conscious diets. Dr. Goerg provides pure, natural and delicious alternatives for vegetarian, vegan, gluten-free and lactose-free diets especially. Coconut can also give meat-eaters a new, delicious flavour in their cooking.
Dr. Goerg seal of quality
Dr. Goerg Organic Coconut Products have a shelf life of up to two years. Store sealed at room temperature and keep away from direct sunlight.
Dr. Goerg seal of quality
Dr. Goerg seal of quality