Premium Bio-Pancake Sirup 350 g
Aus natürlichem Bio-Kokosblütensirup und Bio-Reissirup
Perfekt für Pancakes, Waffeln, Eis & mehr!
Ohne Palmöl, Zusätze
100 % fair, ehrlich, nachhaltig
Von Natur aus gluten- und laktosefrei
Special Price
€4.99
Regular Price
€6.99
Content: 350 g
incl. tax plus shipping
Delivery:
Usually 1-3 days, excl. € 5,95 Shipping (within Germany)
29%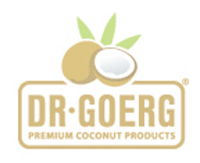 Unser köstlicher Premium Bio-Pancake Sirup besteht aus nur 2 Zutaten: unserem malzig-karamelligen Bio-Kokosblütensirup kombiniert mit der natürlichen, leichten Süße von Bio-Reissirup. Dabei schmeckt er nicht zu süß, ist unwiderstehlich lecker und lässt sich dank der verführerischen Rezeptur vielseitig in der Küche einsetzen. Der Name unseres Sirup ist zwar Programm, aber nicht nur Pfannkuchen, sondern auch Porridge, Müsli, Heiß- und Kaltgetränke, Soßen oder Dips können durchaus einen Spritzer unseres Pancake-Sirup vertragen! Natürlich werden nur die besten Rohstoffe aus nachhaltigem Anbau unter sorgfältiger Handarbeit für die Herstellung unseres Premium Pancake Sirups verwendet. So behält er ein Maximum an biologisch wertvollen Inhaltsstoffen und ist ein komplett natürliches und damit ideales Süßungsmittel anstelle von Industriezucker & Co.
Dr. Goerg seal of quality
Unser Bio-Pancake Sirup ist eine feine Komposition aus unserem erntefrischen Premium Bio-Kokosblütensirup und der natürlich, feinen Süße von Bio-Reissirup. Unser Kokosblütensirup wird dabei täglich frisch aus dem Nektar der Kokosblüte gewonnen und innerhalb von maximal 72h erntefrisch verarbeitet. Der Nektar wird von Hand langsam und sorgfältig eingekocht, ist frei von jeglichen Zusätzen und vollkommen naturbelassen – in bewährter Original Dr. Goerg-Premiumqualität. Unser unraffinierter Bio-Reissirup wird zu 100 % aus Reis hergestellt, der aus kontrolliert biologischem Anbau stammt. Der Zucker wird schließlich aus der Stärke vom Reis mit der Zugabe von Wasser gewonnen. Da Reissirup grundsätzlich frei von Fructose ist, gilt er als perfektes Süßungsmittel für Menschen mit einer Unverträglichkeit.
Dr. Goerg seal of quality
Unser Pancake Sirup verleiht süßen Speisen eine besondere Note. Ganz klassisch kann er zu Pancakes serviert werden, aber auch anderen Süßspeisen verleiht er ein wunderbares Aroma. Für Veganer ist er die perfekte Alternative zu Honig und kann auch genauso verwendet werden. Verfeinern Sie Desserts, Salatdressings, Cocktails, Soßen, Tees oder Smoothies mit Dr. Goerg Bio-Pancake Sirup.
Dr. Goerg seal of quality
Zutaten:
Bio-Kokosblütensirup, Bio-Reissirup
100 g enthalten durchschnittlich:
Energie
1274 kJ / 300 kcal
Fett
0,1 g
- davon gesättigte Fettsäuren
<0,1 g
Kohlenhydrate
74 g
- davon Zucker
57 g
Eiweiß
0,7 g
Salz
0,11 g
Hinweis für Allergiker: In unserer Produktion werden auch Erdnüsse und Schalenfrüchte verarbeitet.
Dr. Goerg seal of quality
Trocken, wärme- und lichtgeschützt lagern.
Dr. Goerg seal of quality
Dr. Goerg seal of quality