Premium Coconut Sprinkles 145 g 5+1 Free
100 % all-natural snack
sweetened with organic coconut blossom sugar - with a new recipe
made from 100% harvest-fresh organic coconuts
Dr. Goerg harvest-freshness guarantee: only 72 hours from harvest to product
ideal for desserts or puer
100% vegan
100 % monitored organic cultivation in the Philippines (certified organic)
100% fair, honest, sustainable
no additives
naturally gluten and lactose-free
Special Price
€19.94
Regular Price
€23.94
Content: 870 g
incl. tax plus shipping
available again shortly
Spar- paket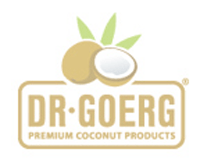 Have you ever wondered what a dream tastes like? Wonder no more! These crunchy Premium Sweet Toasted Organic Coconut Chips are a heavenly indulgence. The tasty nibbles are caramelized with Mascobado cane sugar dont even try to resist. Hardly any other snack can offer you these many beneficial vital substances without any additives. Brighten up your day with coconut indulgence. To ensure that those toasted treats reach you just as fresh as they leave us, we use airtight packaging. The chips can be consumed as finger food, in desserts, muesli & Co. and even in sweet-sour dishes. Be creative… and enjoy the result!
Dr. Goerg seal of quality
All-natural snacking
This incredible snack unites whats destined to be together: harvest-fresh organic coconut chips and organic mascobado whole cane sugar are tying the delicious knot. Initially, the delicious chips are gently roasted only to be caramelised afterwards in high-quality whole cane sugar containing many valuable nutrients. The result is mildly sweet, crunchy and light snack that will simply make you heavy! Just like our other products, the premium coconut chips do not contain any additives such as synthetic coloring of flavoring or preservatives. Your day will be sweetened by all-natural ingredients. The air-right and resealable packaging provides for continuous freshness and high-quality indulgence. Due to the manufacturing process, the coconut chips cannot be produced in raw food quality.
from monitored organic cultivation
made from harvest-fresh coconut flesh or coconut blossom nectar
Dr. Goerg harvest-fresh guarantee: only 72 h from harvest to product
no additives
von Natur aus frei von Gluten und Laktose naturally gluten and lactose-free
100 % vegetable food
not bleached
Dr. Goerg seal of quality
Snacking the luxurious wayThese organic coconut chips are perfect for sociable evenings with friends and family as well as for snacking in front of the TV. They are also a perfect ingredient for delicious desserts, (fruit) salads or muesli. And if youre still looking for that perfect little party gift, look no further! Every host will be delighted if you bring this delicious treat along. The air-tight packaging guarantees ultimate freshness and crunchiness. In short: its an all-natural exotic snack, perfect for every occasion.
Dr. Goerg seal of quality
Ingredients:
Organic coconut Sprinkles (80%), organic coconut blossom sugar, certified organic salt
May contain traces of the following nuts: ALMONDS, HAZELNUTS, WALNUTS, CASH FOUNTAINS, PEC NUTS, PARANUTS, PISTAZIA, MACADAMAN NUTS.
On avarage, 100 g contain:
Energy
2265 kJ / 538 kcal
Fett
37,1 g
- of which saturates
35,0 g
Carbohydrates
41,1 g
- of which sugar
40,9 g
Fibres
13,1 g
Protein
3,6 g
Salz
0,69 g
Dr. Goerg seal of quality
These Premium Sweet Toasted Organic Coconut Chips have a shelf life of up to two years. Please store them closed in a dry place and keep out of direct sunlight.
Dr. Goerg seal of quality
Dr. Goerg seal of quality