Coconut oil for the kitchen, bathroom and on the go
The natural miracle for nutrition and care
ideal for cooking, frying, baking and enjoying on its own
ideal for massage and as an oil for skin and hair
ideal for oil pulling
100% pure organic coconut oil
100% natural raw food quality
made from fresh fruit pulp
extra virgin (pressing temperature under 38°C)
no additives
very high lauric acid content
naturally free from gluten and lactose
vegan (100% vegetable)
Special Price
€29.85
Regular Price
€32.85
Content: 0
incl. tax plus shipping
Delivery:
Usually 1-3 days, freeShipping(within Germany)
Bestseller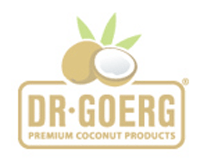 It's astonishing how versatile and effective our natural Premium Organic Coconut Oil is. The precious, natural nutrients and active ingredients of the organic coconut that we retain through gentle processing when extracting the oil have a surprisingly positive effect on the body. Organic coconut oil should be an integral part of ever kitchen and bathroom. You can use it daily to create healthy, light food and it's also perfect for skin and hair care. The precious oil can also help with chapped lips or rough skin. The bundle consists of the following products: 1x Organic Coconut Oil 500ml, 2x Organic Coconut Oil 200ml and 2x Organic Coconut Oil 20ml
Dr. Goerg seal of quality
More Information

| | |
| --- | --- |
| Lieferzeit | 0 |
In harmony with nature and respecting food
Sun-ripened coconuts, supplied daily fresh from the harvest by our organic smallholders in the Philippines, form the basis for our high-quality and natural Premium Organic Coconut Oil. Both the excellent underlying quality of our organic coconuts and the fast processing within 72 hours of harvesting ensure that our coconut oil has great biological value and a pure, fresh coconut flavour. The coconuts are pressed at temperatures below 38°C in the initial pressing. This results in a raw coconut oil that is loaded with nutrients (vitamins, minerals, trace elements) and has a very high lauric acid content. Scientific studies show that all these natural ingredients have a positive effect on body and mind. Coconut oil can also help to improve the absorption of fat-soluble vitamins and some minerals. You can taste it and it's good for your body.
100% pure organic coconut oil
raw food quality
certified organically grown
pressed from freshly harvested fruit pulp
made from the 1st cold pressing/direct pressing below 38°C
Dr. Goerg harvest-fresh guarantee: just 72 hours from harvest to product
no additives
very high lauric acid content
naturally free from gluten and lactose
100% vegetable
not refined
not deodorised
not hardened
not bleached
Dr. Goerg seal of quality
Organic Coconut Oil – amazingly versatile and effective Our high-quality Premium Organic Coconut Oil made from harvest-fresh, sun-ripened coconuts not only has a great flavour and outstanding nutritional content – it also has a myriad of uses. Its high biological value means it promotes well-being and good looks. You can use it to add refinement to your food, make your skin and hair more beautiful and you can also use coconut oil for weight loss or oil treatments. Or you can treat yourself to a divine coconut oil massage and leave the everyday world behind. When you buy our Organic Coconut Oil, you're doing something good for yourself, your body, your mind and the environment. Our Organic Coconut Oil can be used is so many ways: Cooking Our pure and natural raw Coconut Oil for cooking, baking and frying is an essential part of every health-conscious cook's kitchen. It's rich in essential minerals and vitamins and has a lauric acid content of up to almost 60%. Use the oil to add refinement to soups, ice creams, mains and drinks, as a healthy butter substitute or simply take a teaspoonful or tablespoonful with every meal as a food supplement. It's also perfect for oil treatments, ayurvedic oil pulling or as a diet supplement. Body care You can treat your whole body with harvest-fresh Organic Coconut Oil! It regenerates hair, making it smooth and shiny. Used on the face, it relaxes and refreshes the skin. Athletes can use it to rub into the skin, providing the body with medium chain-saturated fatty acids. And added to the bath, or as a body and massage oil, it gives you a sensual feeling of well-being.
Dr. Goerg seal of quality
Dr. Goerg Organic Coconut Oil has a shelf life of up to two years. Store Organic Coconut Oil sealed at room temperature and keep away from direct sunlight. The oil solidifies below 24° C. This does not impair the quality.
Dr. Goerg seal of quality
Dr. Goerg seal of quality